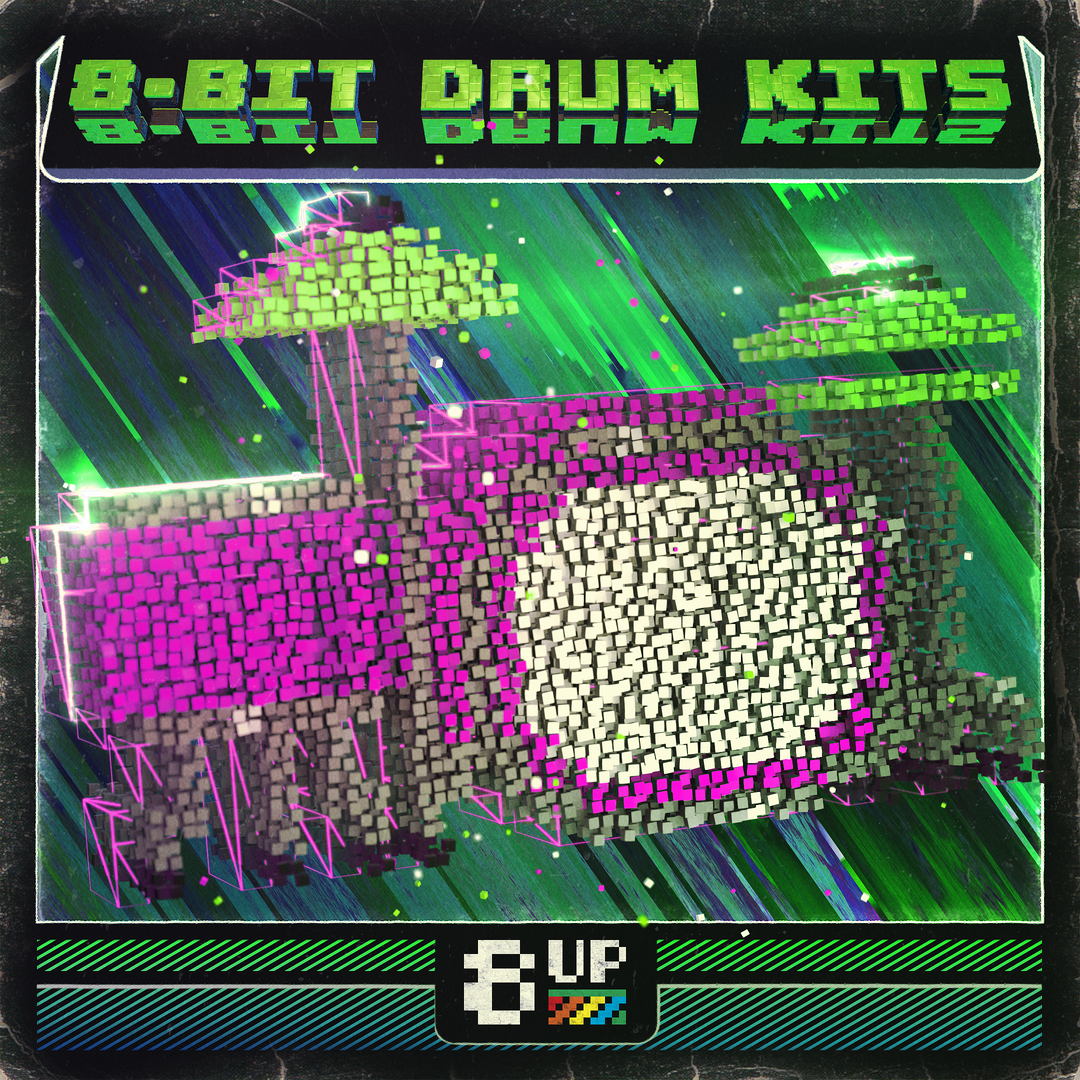 The audio demo above only uses drum kits from this pack. No MIDI patterns are included, and no games were sampled.
8-Bit Drum Kits
8-Bit Drum Kits is an extensive collection of authentic sounding sample drum kits that faithfully reproduce the sounds of classic video game drum tracks. Perfect for 8-bit music, chiptune, or tracks that need retro flare, combining 8-bit kicks, snares, hihats, toms, cymbals and percussion.
This pack focuses on the classic triangle wave and noise combination drum sound that was used to mimic the sound of real drums on the original sound chip. Some of the kits in this pack are based on the drum sounds from popular games, while others are original kits that have the same sonic qualities.
This pack contains:
94 8-Bit Drum Kits (72 Main Kits + 22 Bonus Alternate Kits)
1504 8-Bit Drum Samples (Kick, Snare, Hihat, Tom, Cymbal, Shaker & Percussion)
94 Drum Kit Patches for Native Instruments Maschine, Ableton Live, FL Studio, Battery, Kontakt, MPC Software, Logic Pro EXS24/Sampler, and TAL-Sampler
24-bit, 44.1 kHz WAV files
For the sister drum kit pack, check out: 8-Bit Drum Kits 2
Get the bundle with both drum kit products here: 8-Bit Drum Kits Bundle


The audio demo above only uses drum kits from this pack. No MIDI patterns are included, and no games were sampled.

The kits in this pack utilize one of the principle methods that sound designers used to emulate the sound of acoustic drums with the original sound chip, using a combination of the triangle wave (for the tonal component) and noise (for the transient and high frequency/noisy components). A short triangle sound was usually pitch bent downwards a couple of half steps for kicks and snares (and as much as an octave for toms), while accompanying noise would extend the sound and trail it off with decreasing volume steps. This technique was used a lot more in the later games after designers had more experience with the chip's capabilities.
All of the drum kits have the same drum mapping, with a minimum of two kick drums, three snare drums, four toms, closed and open hihats, one crash cymbal, and additional sounds to make a 16 sample drum kit. The Ableton Live kits conform to the General MIDI drum mapping to match Ableton's other drum kit instruments, while all other formats adhere to the standard "finger drumming" layout of 16-pad interfaces.
Several of the main drum kits have one or more additional 'bonus' alternate kits, which use very similar kick and snare sounds but have different sounds for the toms, cymbals, etc. These kits along with their alternates are named with "A", "B", etc.
Drum kit formatting provided by Uppercussion.
Instrument Patches:
94 8-Bit Drum Kit Patches
Sample List:
274 Kick Drums
411 Snare Drums
290 Closed & Open Hihats
378 Toms
102 Crash Cymbals
16 Ride Cymbals
20 Shakers
13 Percussion
Instrument Formats & Required Software:
Maschine Expansion Pack (.mxsnd), Maschine 2+
Ableton Live Pack (.adv), Live 9+
FL Studio FPC Patches (.fst), FL Studio 20+
MPC Expansion Pack (.xpn), MPC Software or MPC Beats
Battery Kit Patches (.kt3 & .nbkt), Battery 3+
Kontakt Instrument Patches (.nki), Kontakt 4+
EXS24/Sampler Instrument Patches (.exs), Logic Pro 9+
TAL Instrument Patches (.talsmpl), TAL Sampler 3+
Single WAV files (.wav), usable in any DAW or audio software